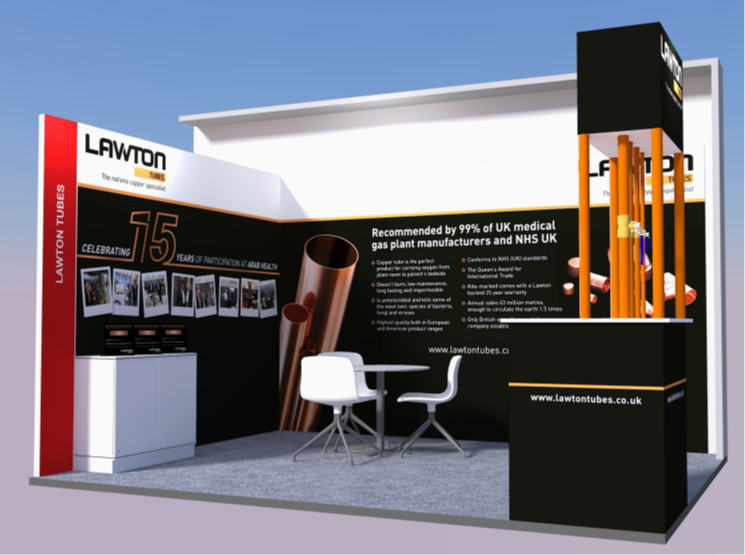 At Lawton Tubes, we've been gearing up for the Arab Health Exhibition & Congress (30 January – 2 February) and this year marks an exciting milestone: our 15th year exhibiting at the show!
Arab Health is an incredible four-day event in the Dubai Convention and Exhibition Centre, bringing the world of healthcare together – from healthcare professionals and policy leaders to manufacturers and suppliers of medical products and solutions. Check out our 2022 Arab Health highlights here.
Showcasing our medical-grade copper tube
In the 15 years since we began attending Arab Health, Lawton Tubes has grown as an export business; we were recognised with The Queen's Award for International Trade in 2019, which has firmly put us on the international map as the brand for copper pipelines in the private and public healthcare sector.
Since the start of the pandemic, Lawton Tubes has been a crucial supplier of copper pipelines, not just within the UK, but in over 35 countries. To put that mammoth task into perspective, we have supplied 4.7 million metres of medical grade copper pipe – that's 8 times the total length of the UK or 12 times that of the UAE!
Joining the ABHI (Association of British HealthTech Industries) Pavilion, we'll be celebrating our customers' achievements in supplying medical-grade oxygen to site across the world in the fight against covid – while showcasing why copper tube is the perfect medium for carrying medical gases.
Robert Lawton, Marketing & International Sales Director, says: "We are excited to be celebrating 15 years' attendance at Arab Health alongside customers from across the GCC and SE Asia. We are looking forward to joining the ABHI in showcasing that we are universally approved by Health departments across the world and that 99% of British Companies in medical gas pipeline devices recommend and use our products. We'll also be looking ahead to next year's challenges to supply pipelines to large PFI hospital builds each national government has planned, while educating those who are unaware what vital equipment is placed behind the walls in hospitals."
Why copper is the best choice for medical gas supply
Copper – one of the world's most sustainable materials – is the preferred metal when it comes to carrying oxygen from the plant room to patients' bedside.
The surface of copper itself is antimicrobial and can effectively kill the most toxic bacteria, fungi, and viruses. The material has the added benefit of being 100% recyclable to help with health systems' agenda to cut down on their carbon footprint.
Today, 99% of British Companies in medical gas pipeline devices recommend and use Lawton Tubes' wide range of copper tubes, which they also supply to the United Arab Emirates.
What our customers have to say
Don't just take it from us!
According to ARAS Medical, "Copper tube is very important for medical gas engineering. Lawton Tubes is a very well-known company and for many years we've been working with them, most probably 30-40 years. Lawton Tubes makes all the products which are used in medical gas application and there is no need to worry about the quality of the product."
Al Faisaliah Medical Systems have been working with Lawton Tubes since 2008 on medical gas projects. They commend Lawton Tubes for being "high quality at a competitive price."
Prasanth from Woodmans Meditech Llc, UEA says, "I have personally been dealing with this brand for the last 18 years. I've been using this product in all the major projects in the Middle East and African market. It's been an excellent product and as a company, Lawton Tubes gives value for the customer in terms of quality, support and timely delivery."
Hear from Martin Berry, Business Line Manager for Beacon Medaes UK about using Lawton copper tubes for medical gas supply here.
Put it in the diary!
To find out more, join us at the Arab Health Exhibition & Congress, taking place from 30 January – 2 February 2023 at the Dubai Convention and Exhibition Centre. You can register to attend here.
Throughout the exhibition, Lawton Tubes will be located on the ABHI UK Pavilion – Stand H2.F51. We hope to see you there!
Or if you have any questions about our world-leading medical pipeline solutions in the meantime, get in touch.