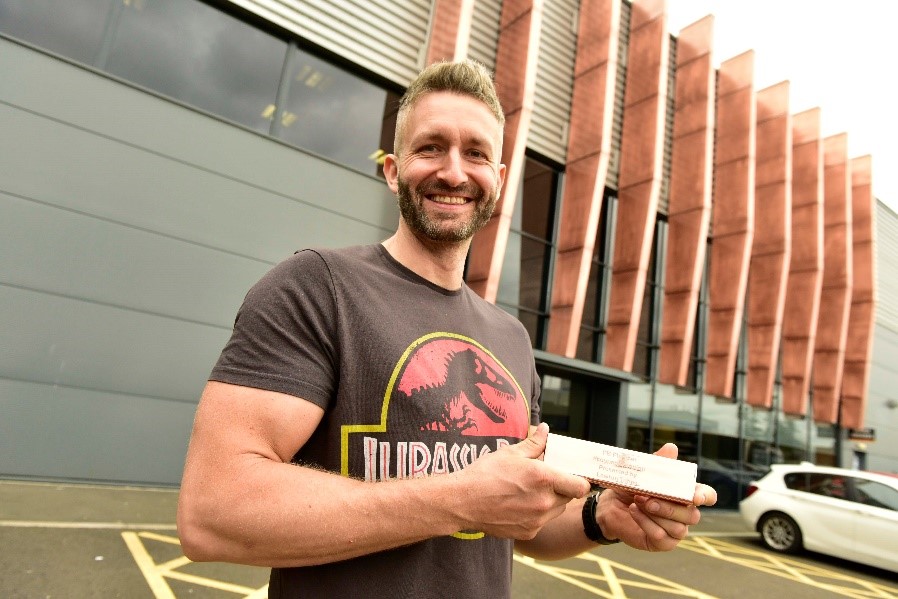 For many, a family heirloom would be a prized piece of furniture, some treasured jewellery or maybe a vintage car. For Peter Booth (aka PB Plumber), it's more like a pipe bender or a metal washer loop that holds sentimental value.
That's because Peter has plumbing in his blood. As a third generation plumber, he's a proud owner of classic 1950s equipment that has been passed down to him from his grandfather. They represent not just the family trade but also core principles like hard work and being proud of your craft.
"A lot of the time while I'm working, I think about my granddad being a plumber," says Peter, "and that instils a level of pride in my work. I do use some of my granddad's tools that he passed on to me. I love using them; I love the fact that every bend I've pulled on every piece of pipe I've installed has been with the same pipe bender that my granddad used."
The proper way with copper
To this day, Peter employs a lot of his grandfather's philosophy into his own work; he continues to work with copper pipes and fittings, known for their lasting and malleable properties; "The main material when you're a plumber is copper," Peter states, "there's a lot of skill in bending and manipulating copper that isn't necessarily still done today, so yeah, I take pride that my grandad would've done all of his work with that tool to a high standard, and I've carried that on because I still honour the traditional way of plumbing."
Infusing a high level of quality into work is something else Peter feels strongly about; when stating the importance of working "proper with copper", he explains, "It's a job that can last years, as opposed to a bit of plastic piping which has poor flow rate, poor workmanship, and there's definitely a difference." It is abundantly clear that putting your heart and soul into your craft has been key to Peter. His ethos for plumbing is simple and sincere: "You want to be doing the work as if you were doing it in your own house."
Lawton's only Copper Ambassador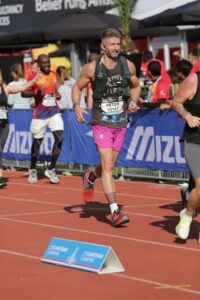 With his pride and passion for plumbing in copper, it seemed an obvious fit for Peter Booth to join Lawton Tubes in our mission to make the plumbing industry more responsible and sustainable. As our only Copper Ambassador, Peter works alongside our own Copperman (Robert Lawton) to revolutionise the construction and plumbing industries. Their fight for sustainability and change can be traced through the abundance of college visits, factory tours, podcast appearances and even charity work that they have done together. From attending the InstallerMERIT charity dinner to Lawton Tubes proudly sponsoring Peter for charity marathons where he raised money for Parkinson's UK and Band of Builders. Peter has also put us in touch with Warriors of Warmth, who we supplied copper tube and fittings to for a homeless shelter in Windsor. With many exciting joint projects in the pipeline, Copperman and Peter Booth are proving to be an unstoppable force.
Perks of plumbing
When speaking about his favourite plumbing projects, Peters indicates that there's more to the profession than meets the eye. From becoming your own salesman, to solving complex problems, Peter likes the variety of challenges his trade offers. "When you do something for so long, it doesn't offer you a challenge anymore, and I like a job where it's something new," he says.
When describing his most recent challenge – which involved safely draining 450 gallons of water out of a tank away from a building "with no drain and nowhere to do it" – he likened his practical approach to a Heath Robinson operation where the materials at hand have to suffice to get the job done.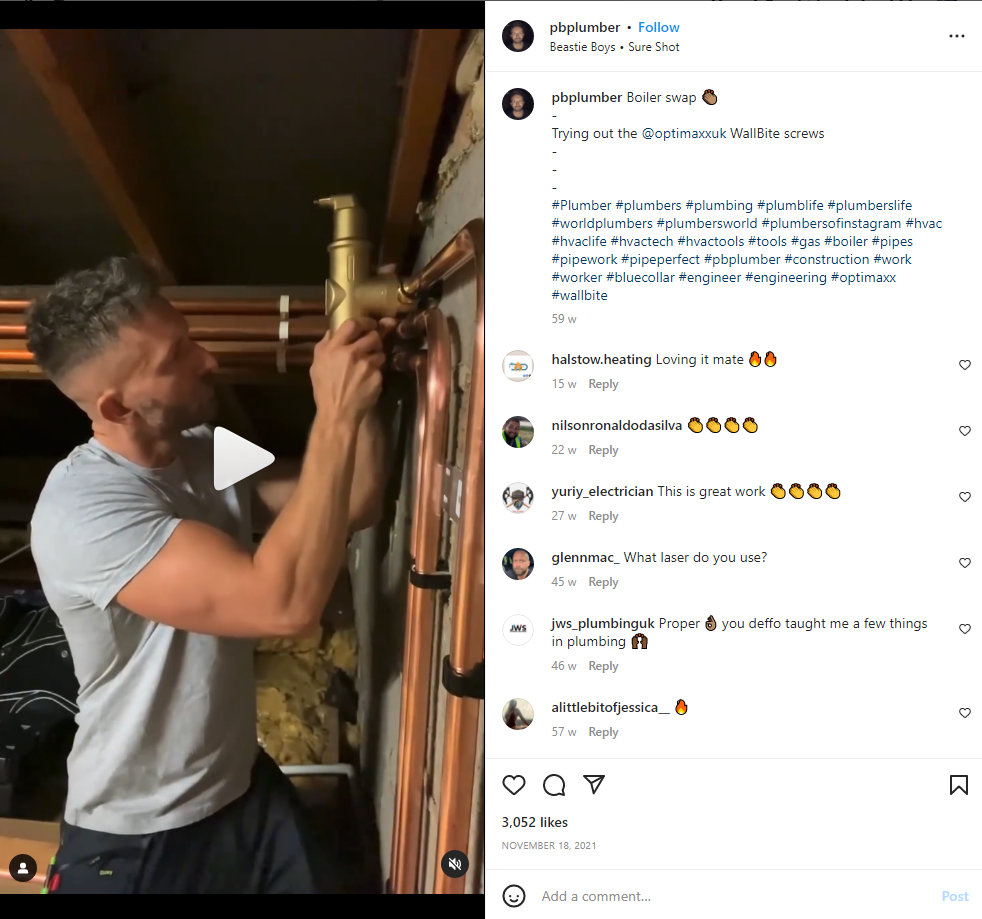 Peter jokingly recalls his creative solution to the problem, "So, I coupled together three or four bits of pipe, elbows, sockets. One end was held running through a step ladder to hold it up. There was a stick holding the other end up, just to divert the water out of the building to a safe place!" For Peter, finding creative ways around a complex problem and engaging in team work are very satisfying parts of the job.
Another perk, and one of the key selling points for plumbing according to Peter, is the opportunity to truly help people: "If someone calls you, and they've got water coming through the ceiling, they've got no heating or hot water, and they've got a new-born baby or an elderly relative, to them it's a major emergency," he says. "It's like turning up and saving the day," hence why plumbing is such an essential and valuable trade.
It may be surprising to some that the plumbing industry demands a multi-disciplinary set of skills; creativity, communication and precision are just a few of the mix that are crucial to a triumphant career in the trade.
Overcoming the market challenge
Aside from on-the-job challenges which plumbers tackle daily, there is one persisting problem arising in the industry which Peter described as "a race to the bottom." "People are cutting the price and devaluing the trade", he explains, "It becomes your job to be a salesman for your services because if you're doing a proper job and taking your time it's going to cost more. There's a difference between your price and someone's who is willing to go the fastest way possible and not do it properly."
Sales techniques and commercial awareness are becoming an increasingly important part of the job, and Peter believes that having the awareness of changes in the trade and its business is essential: "You've got to sell yourself, so you get paid what you're worth."
Plumbing in the next generation
Having been in the trade for over 20 years, Peter's planning to utilise his experience and head in a new direction: "It will be something plumbing related, but I am looking for my next challenge, something to do with college education or promoting the industry in another way." Peter has been a key advocate for the trade, and joins Robert Lawton on visits to colleges to inspire young people with his incredible work ethic, and "to show them why I think pipe bending is one of the best things they can learn to do." As an individual who constantly accomplishes goals in his personal and professional life, there is no doubt that Peter Booth will make a lasting, positive impact on the industry.
When asked about his reasons for entering the trade, Peter put it simply, "When you're a plumber, when you're trained, the world's your oyster." Peter champions the endless possibilities within the trade, stating that, "it's not just about pipework, it's about running a business, it's about being a salesman, and getting paid.
His best advice for upcoming trade professionals is to find what you like within the industry, as you can market your business completely around one sector and be selective with the work you accept. "Do your research, and go on a training course," Peter advises. In terms of the market, there are plenty of sectors to choose a niche from: "there's ground source, air source, solar, renewables, or you can stick to gas." And if there's one copper rule for starting out in the industry, it would be to "choose the work that you enjoy."
Peter's career has taken him through many exciting challenges, as well as opportunities to change perceptions on plumbing, reignite pride for the trade, and build an impressive social media presence through which he continues to share his experiences and insights; you can also catch Peter talking about his passion for the trade on our Lawton Tubes YouTube.
There's definitely enough space and freedom for everyone to achieve their goals within the industry, and as far as Peter's concerned, it's all worth it: "It's not an easy job but it's very rewarding."
If you'd like to learn more about the trade, you can read about industry events on our Lawton Tubes news page. Or if you'd like to arrange one of our fun and informative college visits with Peter Booth to get the next generation of plumbers inspired, get in touch.