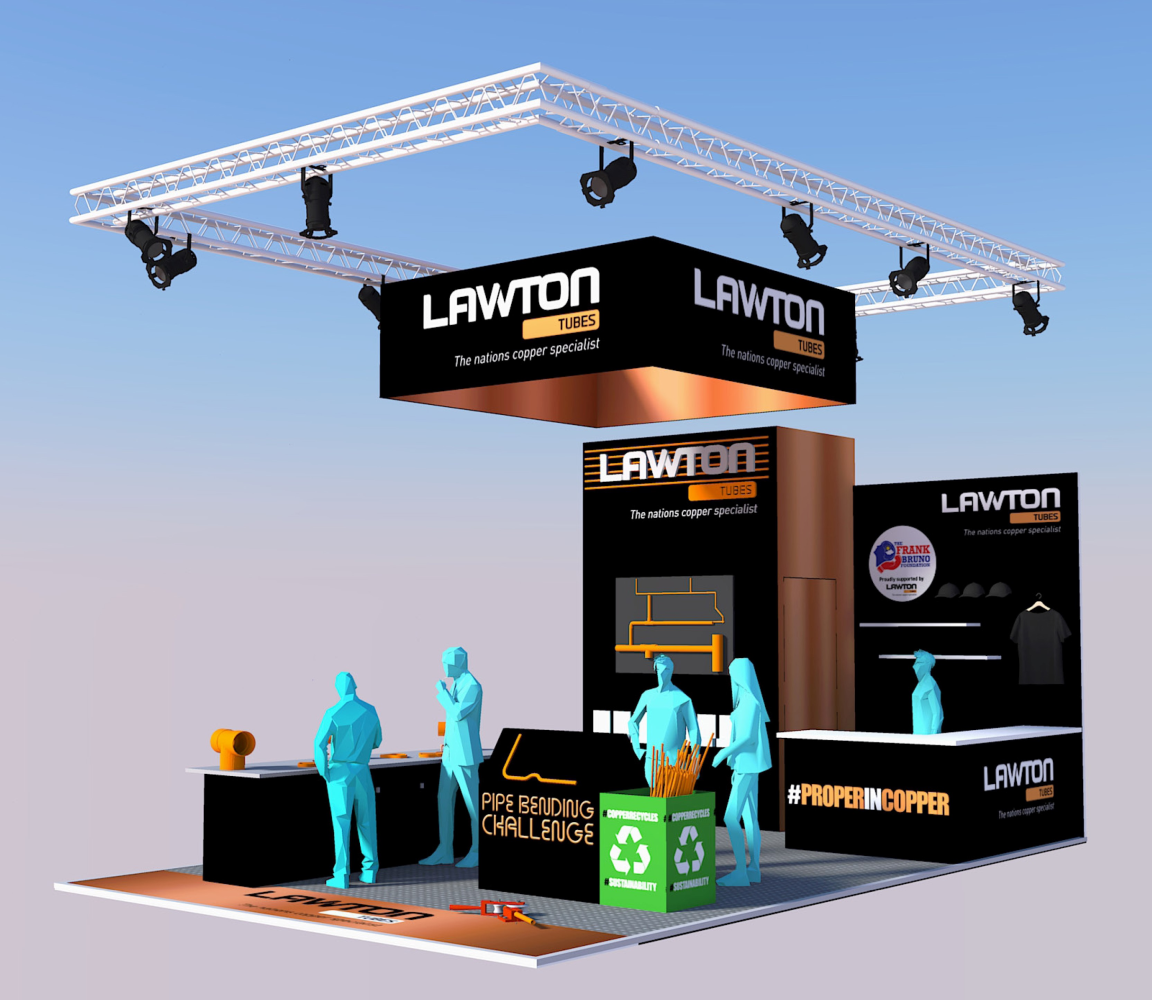 Lawton Tubes – Cu on stand D40!
As a fourth-generation family-owned company, Lawton Tubes has been manufacturing and distributing copper pipes since 1918. We supply plumbing, AC, and medical-grade copper pipe to trade and independent merchants across the UK and overseas, and it is our immense range of stock and ability to satisfy large, complex orders on a tight timeframe that sets our company apart from its rivals.
With more than 100 years' experience in the industry, we have established ourselves as a household name for copper tube and fittings. Our knowledge, passion and drive for all things copper makes us the first choice for anyone seeking expert advice. Committed to spreading the word on copper's recyclable, sustainable, non-toxic, flame retardant and antimicrobial properties, Lawton Tubes is on a mission to make copper pipes the future of installation.
Here's what you can look forward to on the Lawton Tubes stand over the course of the InstallerSHOW 2023.
Traditional vs Modern Plumbing
Technical and hands-on members of the plumbing world are on the Lawton Tubes stand, sharing their expertise and insights into the industry, and of course, their affinity for copper products.
Peter Booth aka PB Plumber is hosting his popular Copper Pipe Bending Challenge – this year with the added pressure of it being a timed, head-to-head competition.
Peter Booth is well-known on social media for his honest, informative videos that have rekindled the flame for experienced gas engineers as well as inspired a new generation of plumbers – something Lawton Tubes keenly supports alongside PB with their engaging college visits.
The question is: do you have the skill to match Instagram's human pipe-bending machine and walk away with a coveted Lawton-PB trucker cap and the 2023 Copper Champion Trophy? A heads-up to those thinking they can mark the pipe up: it all has to be done by eye!
Sophie Langley-Kara aka Soph Pink Plumbing is another inspirational figure within the industry who's taken social media by storm.
Sophie is currently in the third year of her plumbing apprenticeship and is championing newcomers within the sector with her fresh approach and genuine love for her job.
Find her on the Lawton Tubes stand, where she's hosting the Technical Zone along with Andy aka Pressfather demonstrating press fitting, automatic copper pipe bending, and cutting tools, showcasing our range of copper products.
LPB Plumbing Awards announcement
Earlier on in the year, Lawton Tubes, together with PB Plumber, launched the first ever Plumber's Plumber of the Year Award. The aim of the joint initiative was to give those in the industry a chance to nominate – and celebrate – exceptional members of the plumbing community and honour the positive impact they have. There's also the Plumber's College of the Year Award, which looks to honour colleges and lecturers that have shown the most dedication and encouragement in supporting their students – and plumbing's next generation.
Unlike other industry awards, the LPB awards aren't a popularity contest or a money-spinning venture. Instead, they're all about recognising those individuals and colleges who elevate fellow plumbers and the industry as a whole with their outstanding approach and attitude to the profession.
The nominees have been narrowed down to finalists and the overall winners of the Plumbers' Plumber of the Year and Plumber's College of the Year Award 2023 will be announced at 2pm on the Lawton Tubes stand (D40) on Wednesday 28th June by PB Plumber, Copperman and none other than Frank Bruno, MBE.
Meet Frank Bruno
Yep, you read that right. Over on our Lawton Tubes stand (D40), you'll have the opportunity to meet British boxing legend Frank Bruno.
Firm supporters of Frank's mental health charity The Frank Bruno Foundation, we're playing host to the former heavyweight champion to raise awareness of the foundation's work with those struggling to stay in the workplace due to challenges with mental health. Visitors to the Lawton stand will get the chance to grab a selfie with the big man, as well as signed merchandise, which will be sold to raise money for the foundation.
The Frank Bruno Foundation was set up by Frank in 2017 to help people address and improve their mental health through non-contact boxing and a focus on wellbeing. The charity aims to support people in building self-esteem, confidence, and resilience, enabling them to continue working in a trade they love while better managing their mental health.
For all this and more, visit the Lawton Tubes stand (D40) and find out why the future of your trade is copper.