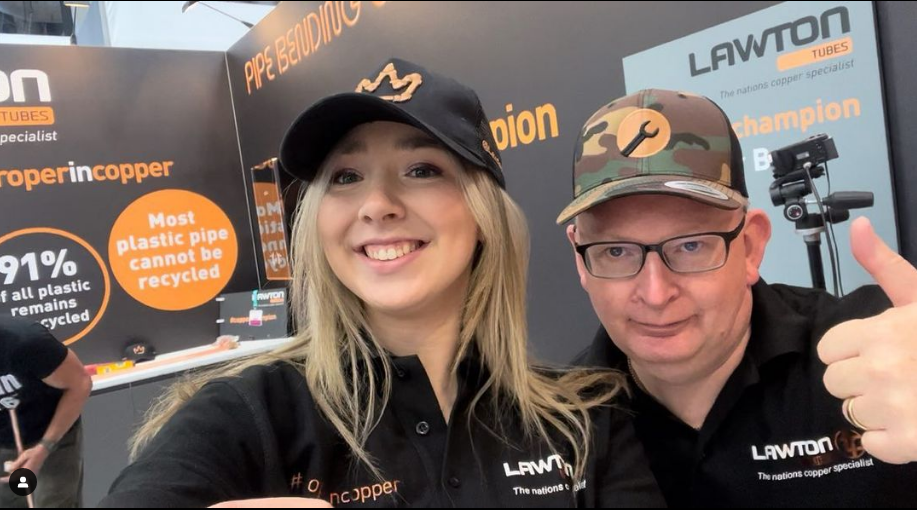 If you attended the Installer Show earlier this year, you may have noticed a young addition to the Lawton Tubes stand. Sophie Maguire helped to showcase our copper pipes and accessories, easily talking to installers with the confidence of someone who's been in the trade for years.
You might not have guessed that only a year and a half earlier, she was starting her plumbing apprenticeship and had never done public speaking before.
Taking a leap into plumbing and its online community has been a major confidence boost, to say the least. Now, Sophie is a firm fixture on the plumbing social media scene, inspiring new and established plumbers alike with her apprenticeship journey and continuously growing her following.
It's precisely her online networking skills that led her to partnering with Copperman, Robert Lawton and PB Plumber, and going into schools to share her love for the trade and apprenticeships.
"At one [school] they were asking us about what jobs we did and what they thought [our jobs] might be," Sophie recounts. "Then I'm showing them a video of what I get up to in a day and they're just amazed that I'm using the grinder with sparks or I'm using fire to do a fitting or something. And it's nice to see kids that go, 'This seems really cool. I wanna have a go at this!'"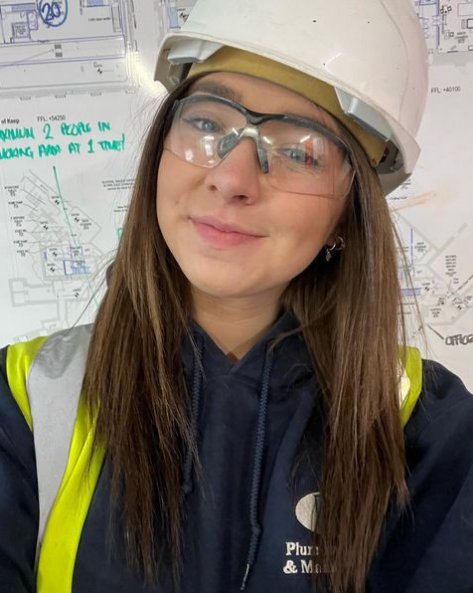 The Apprenticeship Path
Despite the fact she's dyslexic and didn't enjoy a traditional academic environment ("Anything that does not involve reading and bookwork and writing, I absolutely love!"), Sophie's teachers pressured her to pursue the university route. It took a strong will and much support from her parents to pave her own practical yet creative path.
That's why it's so important to her to spread the word about the opportunities of apprenticeships.
"Every single day you're learning, you're getting to meet different people." Plus, with commercial plumbing, there are the interesting locations she's worked in: schools, doctors' surgeries, hospitals, even a castle! "Seeing the behind the scenes in those places was just amazing. You end up finding out so many cool things like we were finding Victorian artifacts that no one's ever found in walls because we were putting pipes through them!"
The other appeal of her apprenticeship has been learning how to tackle real world plumbing challenges, devising a plan and design, then seeing it through to a finished system.
Sophie explains that when working on domestic properties, the onus has been on "whoever's fitting it to design it themselves. I had quite a good start to my apprenticeship with the people I worked with, who always would let me ask a billion questions and would just sit there and go through with me, like, 'This is how we design it.'"
Building her independence on the job is part and parcel of an apprenticeship: "And also getting to do it at college now where I'm doing boiler sizing, pipe sizing, radiator sizing and being able to actually get that first hand technical [experience], like what you'd have the designers doing and then you see it through to the end when you can turn the tap on and you know it's perfect."
Becoming a Plumbing Star
Hearing Sophie talk with such pride about installing heating systems, it's difficult to imagine a time before she'd found her passion for plumbing.
"I didn't think I was even going to go down the plumbing route because it didn't really appeal to me, to be honest, I didn't really know what was involved in it." During her construction GCSE, Sophie tried a range of trade skills, including bricklaying and carpentry; "Pretty much everything apart from plumbing!"
However, having submitted over fifty applications for various apprenticeships, "Plumbing was the only interview that I got, and thankfully I got the job from that interview. It was very fortunate because it was during Covid. No one was looking for an apprentice, and everyone was a bit sceptical of taking on a 16-year-old girl who'd never really done any work in her entire life."
Since then, she has more than proven her mettle.
A particular achievement has been breaking ground as one of the first female nominees for the Rising Star Award at the Installer Show. "It was really nerve-wracking actually, because it's a national award. You enter yourself into it and I was a bit sceptical but Rob was like, 'Just do it, see where it goes!' I had to write a technical challenge about plumbing. We had a list of problems in a house and we had to write about how we'd overcome the problem, how we'd interact with the customer. It was really scary, but it was quite helpful actually to help gain a bit of confidence – and that was thanks to Rob really!"
With advice and encouragement from Copperman and PB Plumber, Sophie has grown her social media presence and joined "a great community" of plumbers online. "I feel like I've got so many adoptive brothers and uncles!" – people that have truly supported her when she's reached out for help.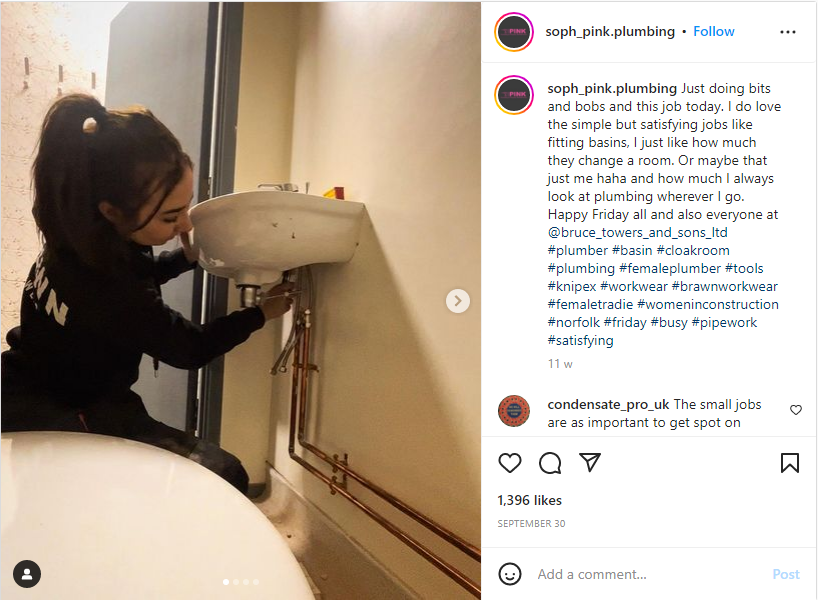 Using Social Media for Good
Unfortunately, for anyone sharing their story online, trolls will inevitably throw hate your way. Sophie is no stranger to this and has also had to face unfair comments and poor behaviour from people in real life, simply for being a woman in the trade.
When starting out, "I really struggled with the fact that there's no females in my area and not having anybody to even talk to about it." However, networking online allows you to break that loneliness and find others with similar experiences who can support one another. "On social media, I met an amazing group of women: plumbers, electricians, brick layers, carpenters. I think that really helps."
For Sophie, another key benefit of social media is "seeing that everyone has a different way of doing stuff. It was learning, 'Ohh, actually that's a better way to do this job,' and you then learn your own plumbing style from seeing everybody else's and it's a nice way to take pride in your work as well."
Social media is also a great tool for breaking stereotypes, not just around being a female plumber but also a young one.
"It's really frowned upon, I think. When everyone thinks of young people in a trade, it's, 'you've failed at school' or 'you've not done well.' I got told, 'Why do you want to throw your life away and do that?' When actually I was quite happy with my results. The lowest grade I got in my GCSEs was a B up to A** in Construction. It's actually, I think, a creative outlet and young people just want to be able to show that." With her social content, Sophie aims to prove that "young people can still take pride in our work."
Plus, by sharing her experience as a female plumbing apprentice, she's become a shining example to young boys and girls alike. "Kids follow me on Instagram and TikTok and are like, 'This is amazing; I love watching this! I want to be a plumber. I want to be an electrician,' or anything like that."
The Installer Show experience
Whilst at the Installer Show earlier in the year, "I had this one young girl come up to me like, 'I follow you! Thank you – I'm keeping up with plumbing!' and it was the most surreal thing [but] having someone come up to you and actually say thank you was amazing."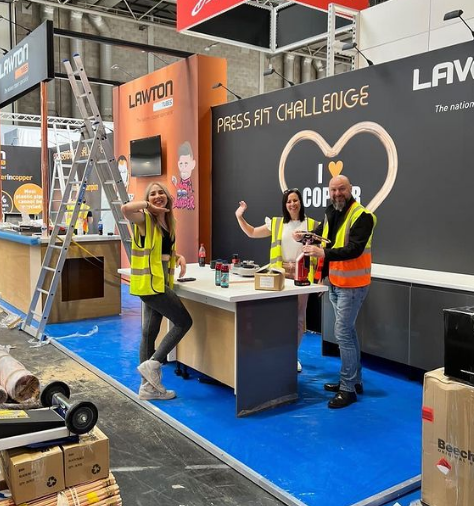 Despite feeling nervous to begin with (her mum joined her for moral support!), Sophie soon felt at home on the Lawton Tubes stand. "It was nice to actually talk to faces behind the brands and meet people I've met on social media."
It was also an incredibly worthwhile learning opportunity from the "talks going on or even talking to people on their stands. I found it such a fun experience. It adds a new side to plumbing that I didn't realise about. Because now you can order stuff online, you don't tend to get that kind of interaction with manufacturers anymore, like with the sales reps. Actually seeing all that was a great experience and learning about new things that [have] come on to the market. I think it's a thing that colleges should definitely try get more kids to go to. I know it's a bit of an expense or a day off but it's definitely worth it for the opportunities. It's so eye-opening and I really enjoyed it. I'm trying to drag all the boys in my class to come next year!"
So, hopefully you'll bump into Sophie and her classmates at the 2023 Installer Show, flying their flags for plumbing apprenticeships!
At Lawton Tubes, we're passionate about inspiring and nurturing the next generation of plumbers, which is why we're so pleased to share Sophie's story with you. Watch her full interview here and continue to follow her journey on Instagram (@soph_pink.plumbing) and TikTok (@that_girl_plumber).
Robert Lawton and Peter Booth are doing a series of college visits to keep encouraging young plumbers to take pride in their trade. So, if you'd like them to do a talk at a college near you, get in touch.