We began our journey as a small engineering firm, at the heart of Coventry, in 1918. Fast forward a little over one hundred years, and today, we are now the UK's leading copper specialists, supplying copper tubes, accessories and fittings. Furthermore, the expansion of the Lawton Tubes brand now encompasses thirty-five countries and four key markets; air-conditioning, engineering, medical and plumbing.
Here at Lawton Tubes, we want all of our website users to receive a convenient and efficient experience while navigating through our site. We also want our website users to gain a better understanding of where they can locate and retrieve the information they need.
Hence why we have created this comprehensive guide, to break down everything you need to know about our renovated website. In this guide, we will explain to you where you can locate the key features of the Lawton Tubes website and how these features can help you.
Search Function
You can easily find the copper product you want using the search bar at the top left of every page on the Lawton Tubes website. Use the search bar to quickly and conveniently locate the information relevant to you.

Brochures
Feel free to educate yourself about the copper products we supply to your industry, by pressing on one of the tabs on the navigation bar.
You can, for example, browse the ACR webpage to learn about the fittings, accessories, tube systems and coils Lawton Tubes distribute for ACR purposes.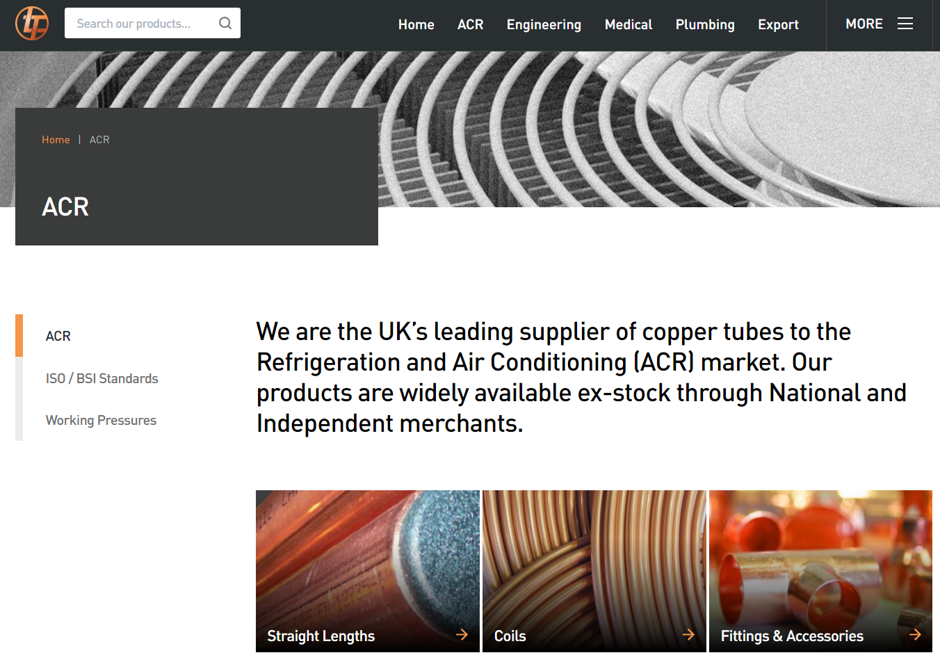 Additionally, all of our industry pages feature a brochure.
For example, the ACR page features an Air Conditioning Brochure, which you can conveniently download.
You can read the ACR Brochure to familiarise yourself with our ACR product range, and the specifications of each product. The ACR Brochure includes in-depth information on a wide variety of our ACR products, such as straight lengths, coils and MaxiPro.
You can download the Lawton Tubes ACR Brochure by pressing the download icon on the ACR page. Every one of our brochures explains the key features that make our copper products ideal and unique for the respective markets we serve.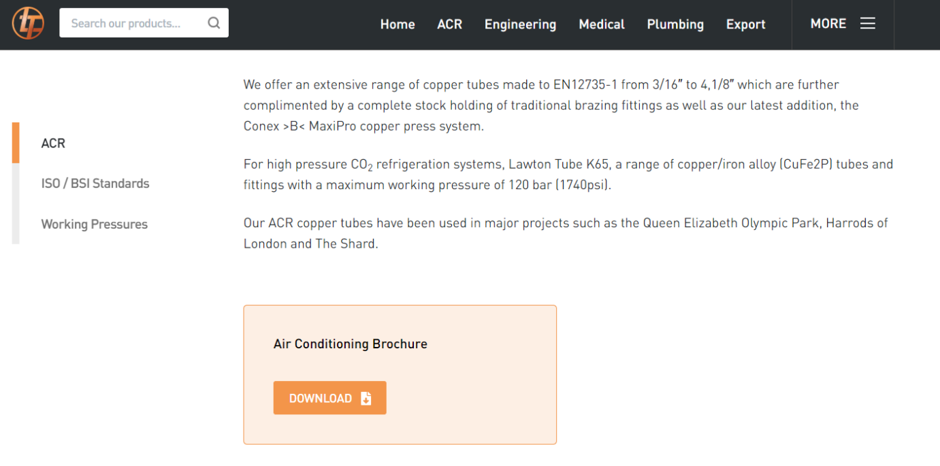 Datasheets
Access downloadable datasheets for in- depth product information.
The ACR product area, for example, features an ACR Working Pressure Datasheet, where you can learn about the maximum working pressure (MWP) of our copper tubes.
We only include accurate information in our datasheet, with all values displayed in accordance with EN 14276.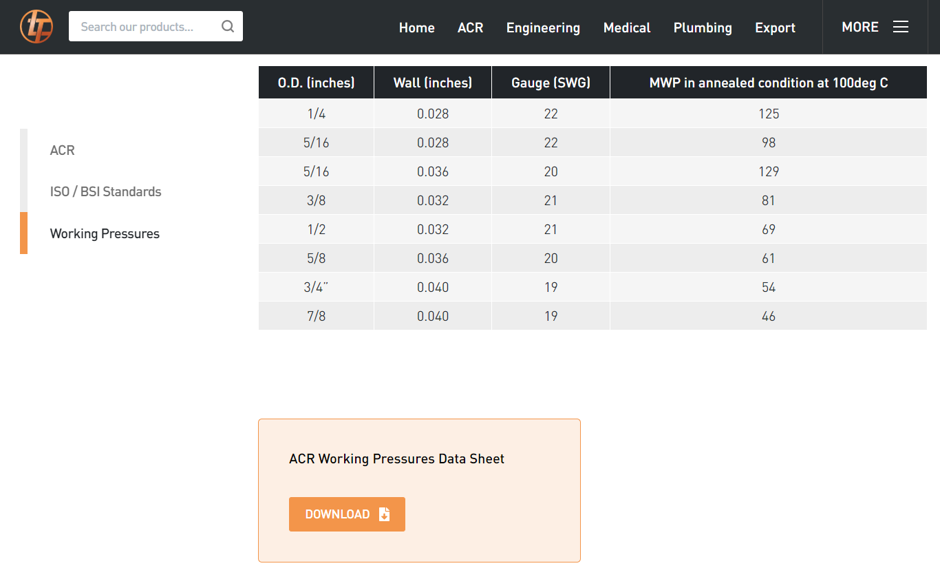 Likewise our brochures, we feature datasheets in all of our other product areas.
For example, you can read our Engineering Data Sheet to discover more about the products we supply to the engineering market.
Find key information such as the material temper; tensile strength and elongation of the engineering products we supply.
Engineering Enquiry
In the Engineering product area, we designed a specialised enquiry section.
The Engineering Enquiry section allows grants users the power to configure their copper products, tailoring them for bespoke engineering solutions.
You can customise products by shape; outer diameter and even wall thickness.
When you are satisfied that the product matches your requirement, you can then order it by submitting an enquiry.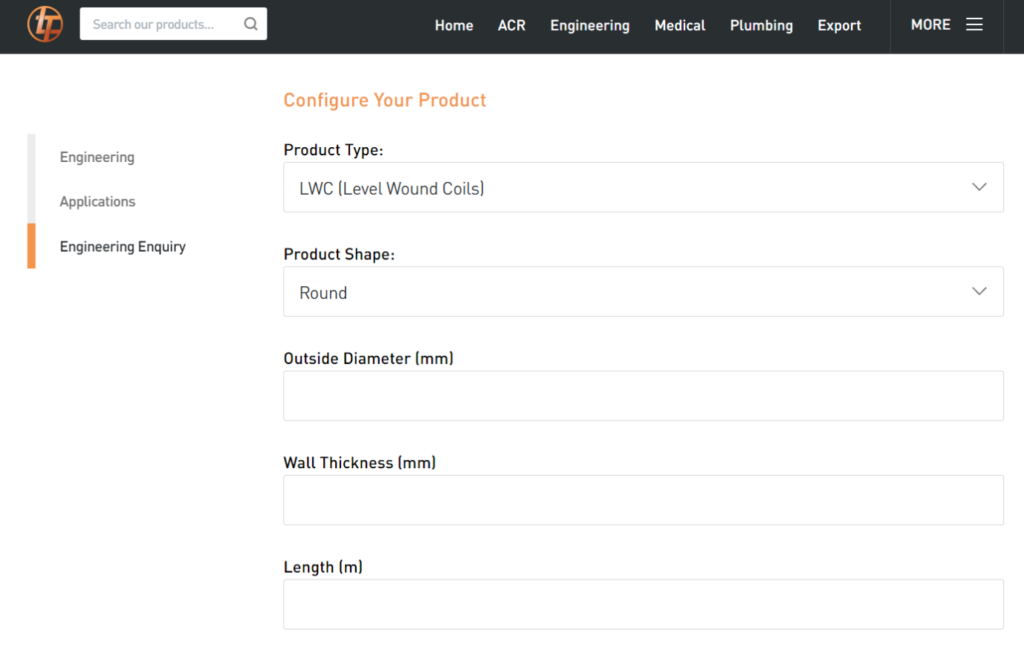 You should note that on the Contact Us page, users have the option to make general enquires. You can get in touch with our experienced sales team to discuss your requirements for any of our copper products.
Technical Calculators
Our technical calculators allow users to work out values such as weight; wall diameter, pressure and estimates of pressure loss for bespoke projects.
We have three different technical calculators on the Lawton Tubes website.
These technical calculators are:
These can be accessed through the website's homepage, or by downloading our app on the Apple Store and Google Play Store.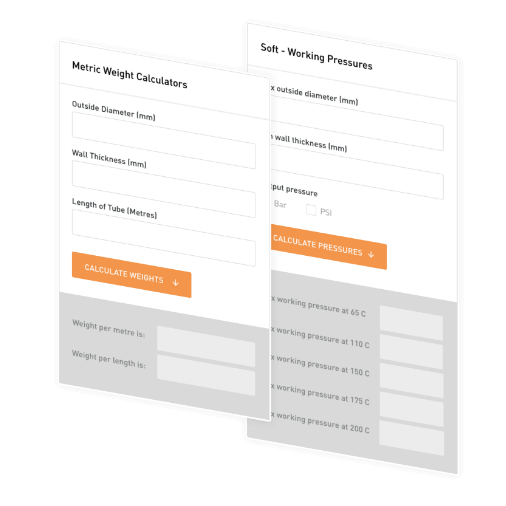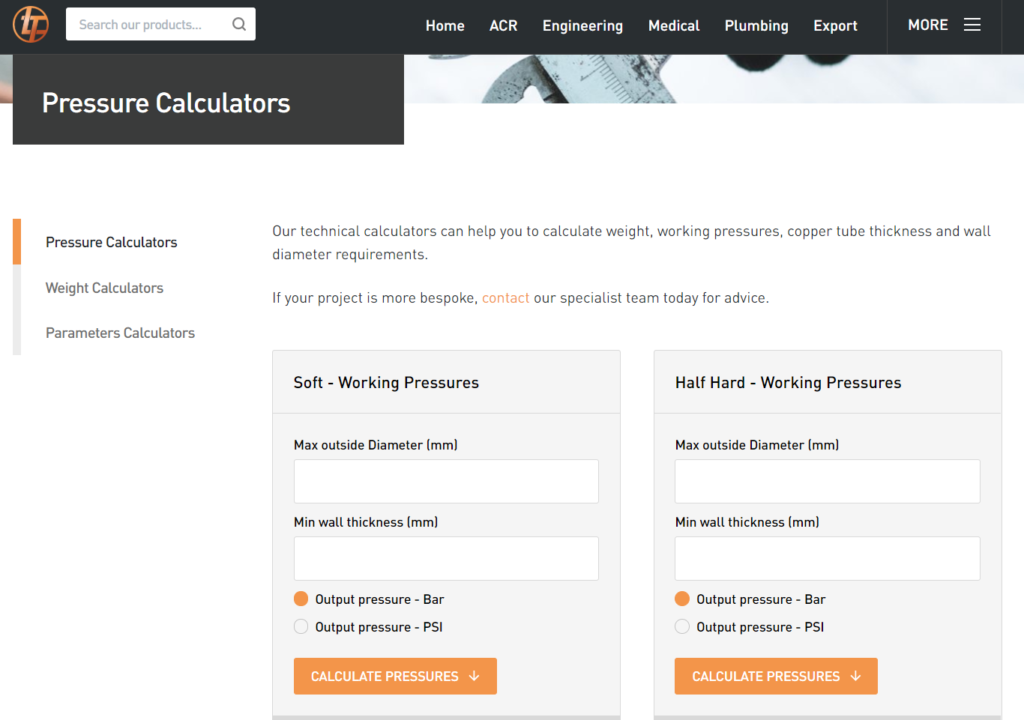 Copper Price Information
At Lawton Tubes, we endeavour to supply our clients with the fairest price. Additionally, the prices we propose for our copper solutions will always reflect the official traded copper prices listed by the London Metal Exchange (LME).
To keep yourself informed about market trade information, you can learn about current copper prices with our up-to-date graph.
Our Copper Price graph can help you to keep track of how copper prices are changing over time.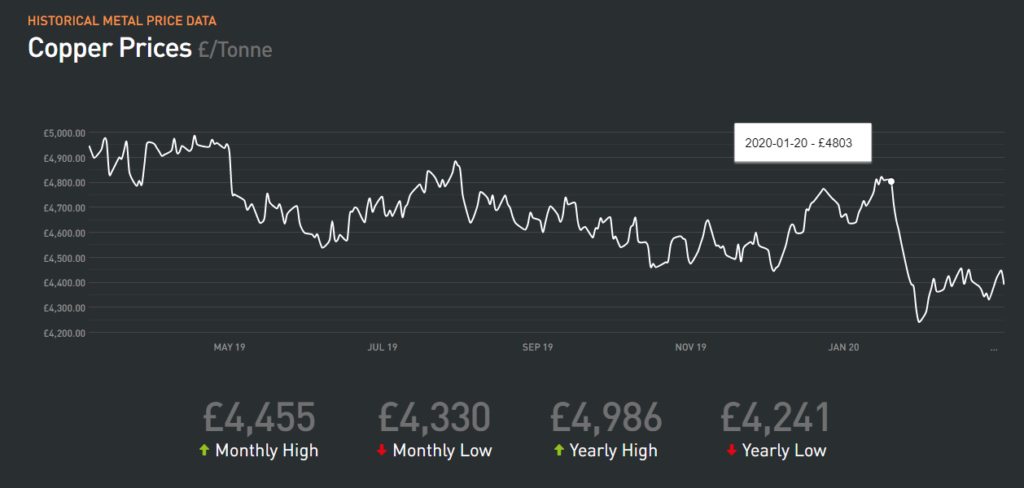 Translation
At Lawton Tubes, we have earnestly served our clients for over one hundred years, and in all that time, we have also forged alliances with many different international partners.
To this day, we supply copper pipeline solutions to many corners of the globe, including Asia, Africa and the Middle East.
In order to reflect this, our website programmatically integrates with cloud translation services to deliver 10 languages, including Spanish, Arabic, German and Chinese.
Simply click the flag in the top right corner of the site and choose your preferred language.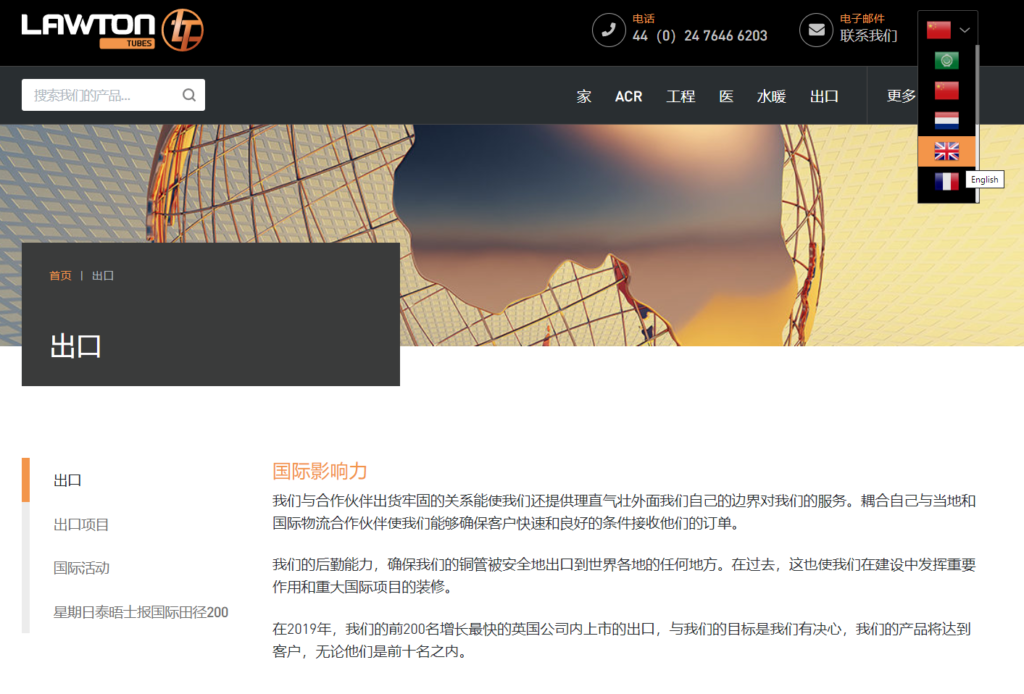 Want to learn more about Lawton Tubes' story, values and achievements? Browse through the Our Story page, and learn about our impressive history of supplying customers with unrivalled copper pipeline solutions.
Want to discuss the requirements for your copper product? Get in touch with our team here.