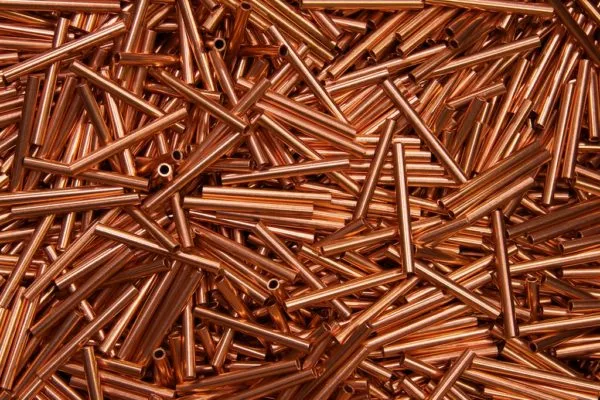 With a possible recession and changing UK environmental legislation on the horizon, what is the future of copper?
Of course, this is a crystal ball-gazing exercise and there are no guarantees but here are our educated guesses based on current trends.
The future of copper prices
Since Covid-19, copper prices have risen by 130% and the question on many minds is will the price return to pre-pandemic levels? This is an important question for our customers, who are physically installing the material, whether in plumbing and heating, air-conditioning, medial gas or as part of an engineering application.
Lawton Tubes is steered by the fluctuating market price of copper and our prices change daily in accordance with the London Metal Exchange (LME) where we purchase our materials. The LME is the metal industry equivalent of the London Stock Exchange. It is an appealing material for traders looking to make a profit in much the same way as trading stocks and shares.
At Lawton Tubes, we simply acquire what materials we need for manufacturing and have an incredibly knowledgeable team who obtain the best available prices so that our customers can benefit.
You can easily keep track of copper prices on our home page here.
Considering the rising demand and decreasing supply of copper, plus market predictions by the World Bank and International Monetary Fund, the price of copper is unlikely to drop back to pre-pandemic levels in the next 5-8 years.
However, we will continue to sell at a fair price, following the LME index.
Copper and sustainability
Electric cars
With the deadline for banning the sale of new petrol and diesel cars being brought forward from 2040 to 2030, there is an increased demand in electric cars that will only continue to grow.
This is good news for copper manufacturers, who are seeing an increase in demand for copper wiring. The reason for this is that electric vehicles (unsurprisingly) use more electrical wiring. A diesel car will use approximately 14 kilos of copper whereas an electric car has about 120 kilos.
Why is copper the most used metal for wiring? Primarily, because of its superior electrical conductivity – second only to silver. Comparatively, copper is the more affordable option hence its popularity.
That means that copper can look forward to being increasingly in demand as the UK's motorists transition to electric vehicles.
Gas boiler ban
Another piece of environmental legislation that will affect copper manufacturing is the ban on gas boilers. By 2025, there will be no gas boilers installed in newly built homes and by 2035, there will be a complete ban on their installation in any UK home.
So, what are the alternatives? Two likely contenders are hydrogen gas boilers and heat pumps.
The first option is fairly similar to existing boilers. Hydrogen gas is far more environmentally friendly compared to natural gas, and the existing heating system components (piping and radiators) can remain the same. However, the boiler units themselves will need to be replaced. The UK government is still working on the feasibility and safety of hydrogen boilers as an option.
The alternative possibility, heat pumps, will require more significant changes to a home. Heat pumps either source heat from the ground or air, increasing the temperature to heat a home and make hot water. It follows the same principle as a fridge but in reverse.
Many homes will require a heat pump to be placed outside, meaning that piping will be needed to connect it back to the house. Copper is the ideal metal for this due to its durability and resistance to corrosion. For instance, if a ground source heat pump is installed in someone's garden, copper piping will survive well in those underground conditions as it transfers heat back into the house.
Depending on how popular heat pumps are in comparison to hydrogen boilers, it's likely that the shift to more sustainable heating options will also spur greater demand for copper.
Copper for a sustainable future
As the country and consumer behaviour shift focus to a more sustainable future and the impact of overusing non-recyclable materials on our planet, it's clear copper has a large part to play in the future of several industries, including construction and automotive engineering.
Changing legislation suggests that the demand for copper will only increase as time passes. Copper continues to prove its mettle against other materials as a durable, highly conductive element that is infinitely recyclable. Appetites for copper are showing no signs of waning and Lawton Tubes are committed to promoting and extolling its virtues throughout the manufacturing and engineering sectors.
Contact us for further information about our products and services. Our knowledgeable team are always happy to help.