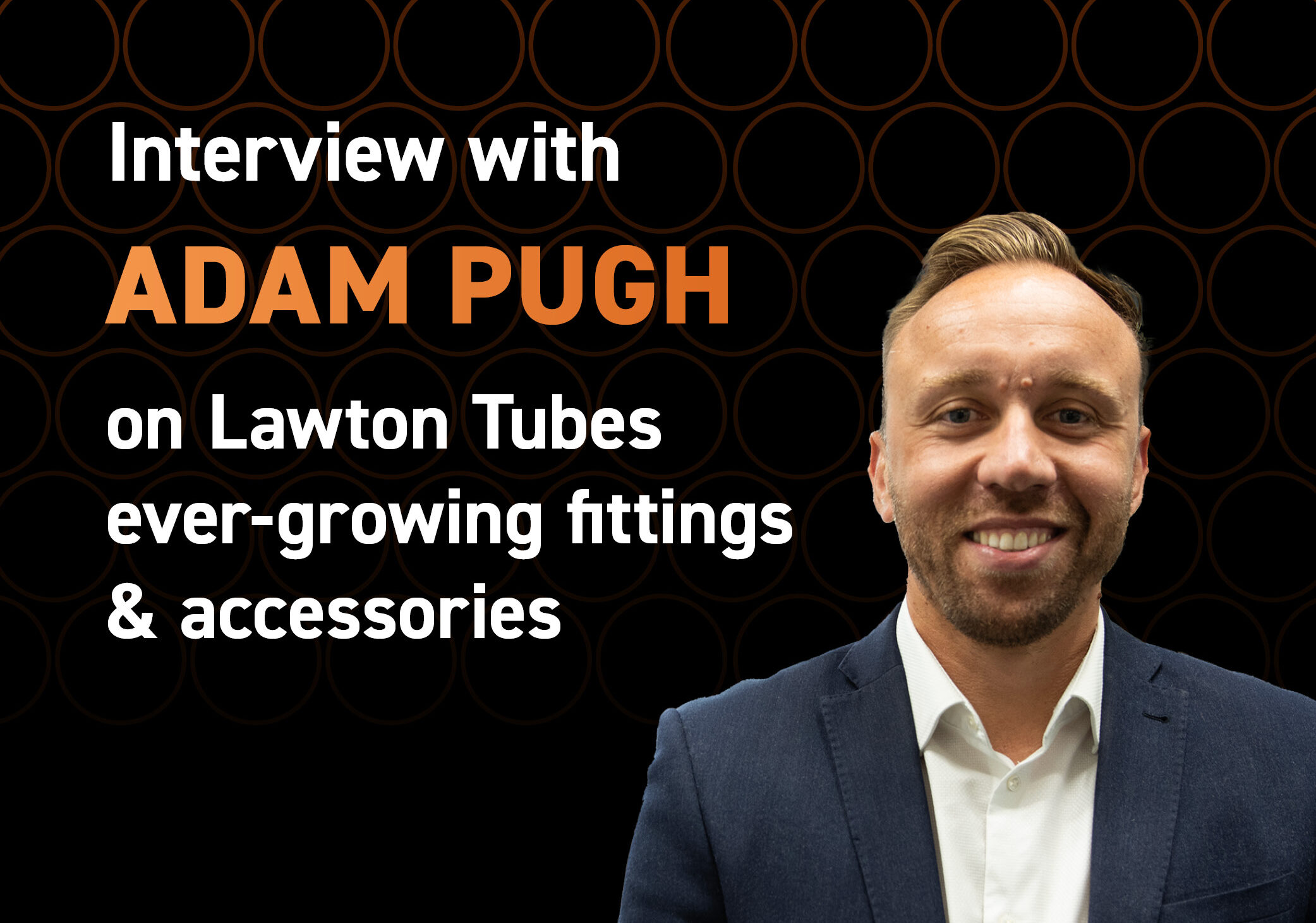 Lawton Tubes is more than a copper pipe supplier. For over 15 years, we have been providing fittings and accessories for plumbing, ACR and medical applications. And with an ever-expanding product range (totalling approximately 1,600 products!), we can fulfil orders for completing entire copper pipelines.
Meet Adam Pugh, Head of Fittings & Accessories
At the helm of this flourishing department is Adam Pugh, Head of Fittings & Accessories and Senior Account Manager for Plumbing. Adam may have a long job title but his approach to his job is simple: prompt action, open communication, and growth.
With a solid background of over two decades in plumbing and heating, Adam's journey with Lawton Tubes began 13 years ago as a key account manager selling copper pipes. His career path soon converged with the company's evolving landscape.
"Our main market is and has always been copper pipe, but that was always going to reach its ceiling-point," Adam explains. "Copper pipes is our bread and butter, but the drive was always to get behind fittings and accessories, and to evolve and to grow into that sector organically."
Adam's experience and drive played a pivotal role in this strategic shift. Recognising the growing market potential, Robert Lawton (International Sales Director), Adam and the team drove the incorporation of fittings and accessories to Lawton Tubes' existing offering within their client pool, and beyond. "From where we were 10 years ago selling to small accounts, it has grown now to a serious part of the business," recounts Adam.
Not only is he proud of transforming a fledgling offering into a substantial pillar of Lawton Tubes' portfolio, Adam's also taken on significant accounts. He takes pride in managing the UK's largest contract for a single customer, a feat that underscores his commitment and the company's capabilities.
Diverse Range of Fittings
Lawton Tubes' Fittings & Accessories department offers a meticulously curated range, tailored to diverse applications. Some of the star products according to Adam are end-feed fittings, soldering fittings, compression fittings, and brass and chrome pipe rings (to name but a few).
Lawton's end-feed fittings are seamless, one-piece designs that marry durability with user-friendliness. Covering sizes from 8mm to an impressive 219mm, these fittings complement our copper plumbing and heating pipe, all adhering to BS EN 1057 standards.
Ideal for installing plumbing in limited spaces, our solder ring fittings span from elbows of varying degrees to coupling. Available from 8mm to 54mm, these fittings are ideal for use with Lawton EN 1057 copper pipes. Whilst on the subject of solder, Lawton Tubes also stocks soft solder reels (both leaded or lead-free), silver brazing rod, and soldering flux.
Both brass and chrome finishes are available amongst all our pipe rings and compression fittings. Making Lawton Tubes stand apart from our competitors, we not only stock standard compression, we also offer DZR compression fittings – perfect for applications that will be vulnerable to stress-cracking corrosion.
Amid this product diversity, Lawton Tubes boasts staggering annual sales figures – equivalent to over 200 times around the M25 in 15mm pipes, and 2,000 bathtubs' worth of 15mm 90-degree elbows!
Exemplary Standards and Service
Yet, Lawton Tubes' strength lies in more than just products; it's our commitment to exceptional service and quality which has been key in entering the fittings and accessories market.
"All new products that we release have to conform to a standard," says Adam, "We would look at those standards and obtain the certifications; those that are required, and others that are seen as an advantage from a customer's point of view."
Logistics has also played a big part in winning over new business for the company. We ensure that our own fleet of lorries operate daily, ensuring timely and eco-friendly deliveries. "It's a nice edge to have now. None of our competitors have the facilities to do that," Adam says.
By combining copper pipes and fittings within the same shipments, we not only reduce courier costs but also champion sustainability – another important value for both Adam and the business.
A major contributing factor to Lawton Tubes' timely delivery is our ability to store impressive quantities of products in our warehouse. "One of the key reasons Lawton is successful is because we invest in stock. So our OTIF is very, very good. To get that delivery, on time and in full is very, very important to us," Adam says.
In addition to our commitments to top-tier standards and delivery, Lawton Tubes enhances customer satisfaction through candid conversations, receptive feedback, and a dedicated customer services team that cultivates a culture of openness and dependability. As Adam explains, "We're an honest business; we've got honest people that work here so we can have some really good, honest conversations with our customers."
"We have a Technical Team to provide that technical expertise to customers as well. If someone wants to speak to someone they can, whether online, over the phone, by e-mail or even a site visit. We offer all that back-up in the industry."
Evolution to Excellence
The department's growth is not confined to the UK. With an expanding fittings and accessories portfolio, Lawton Tubes has become a go-to source for international clients, stockists, and merchants, looking to source everything under one roof. "It's not just about the copper tube," says Adam, "We can sell them the full pipeline package."
Having started with medical fittings back in 2008, we have now emerged as a comprehensive provider of fittings for heating & plumbing and ACR sectors too. Adam works closely with his ACR counterpart, Chris White, to ensure that Lawton Tubes can supply full air conditioning, refrigeration, plumbing and heating systems for both domestic and commercial properties.
This dedication to meeting customers' needs is why Adam and his team make a point of active listening. "A lot of ideas, and a lot of strategies we use are based on talking to customers," he explains. "They're the ones that are using our products, so regular communication with customers is vital."
The impetus behind the upcoming product launch for plumbing fittings is certainly customer-driven. Whilst still under wraps for now, the launch promises to be quality products with Lawton Tubes' 25-year warranty and, of course, it'll be superior and sustainable copper.
As Adam says, "We are quietly confident about the product that we sell and its attributes."
Click to explore Lawton Tubes' range of Fittings and Accessories, and to read our latest news stories.